Sold Out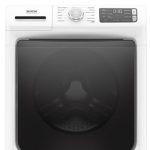 Maytag Front Load Washer With Extra Power Model MHW6630HW (color white)
Doug's Maytag Appliance
695 Valley Street
Scottsville, VA
Retail: $1,247.25
Our Price: $623.62
This $1,247.25 Cville DollarSaver certificate is good for a Maytag Front Load Washer With Extra Power Model MHW6630HW, color white from Doug's Maytag Appliance Center in Scottsville, VA. Includes delivery, and installation up to 40 miles. Can not be combined with any other offers.
Doug's Maytag Appliance
Scottsville, VA
695 Valley Street Scottsville, VA 24590 -
Show Map
Doug's Maytag Home Appliance Center is locally-owned and operated by Doug and Kelly Golder. Doug has been in the appliance business for 37 years. His experience began with classes in 1976 while still in high school. In 1983 Doug started working with a local appliance company in Charlottesville, and then ventured out on his own in 1991. Doug's Maytag Home Appliance Center has been established for 29 years now and has become a successful business. Doug's Maytag Home Appliance Center offers new, used, and scratch and dented appliances. Our parts department supplies any fast moving parts for your appliance that you may need. We service most major brands of washers, dryers, refrigerators, freezers, ranges, ovens, and dishwashers. This includes: Maytag, JennAir, Amana, Whirlpool, and KitchenAid, all in or out of warranty. All repairs and installations are guaranteed, and customer satisfaction is our #1 priority. Doug and Kelly would like to thank everyone that has made Doug's Maytag Home Appliance Center a success, and they will continue to give prompt and reliable service. We proudly serve the areas of Scottsville, Charlottesville, North Garden, Palmyra, Crozet, Earlysville and Keswick in Virginia.